The Executive Team collectively has 110 years
of transport management experience.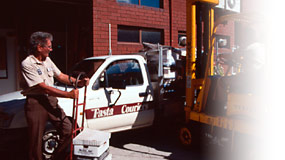 Founded in the 1970s, Fasta Couriers, managed by Mike Skuba and Peter Chittenden, has experienced consistent growth, and is today the largest, independently owned and operated specialist 'on-demand' courier company in Western Australia.
Much of that success is attributed to developing a business that combines the very best people and the very best technology to deliver a level of service that wins new clients and, importantly, keeps existing clients.
Part of our commitment to clients includes an ongoing investment in technology and in building a diverse fleet of vehicles. This, in turn, leads to a level of efficiency that is second to none.