To ensure that our clients always receive a 'premium level' of service, we have in place a 'Four Step Approach' to Service Delivery. Alternatively, you may care to take advantage of our online booking facility. All you need is a current account.

Step 1

Phone Fasta, quote your name and client code, pick up and delivery points, and the level of service you want. The operator will quote a job number to you.

Step 2

All your job details are recorded straight into the computer as you speak. The computer can provide job pick-up and delivery times, together with the job charge, within seconds.

Step 3

The computer despatches the job straight to the vehicle it has nominated for your job. The despatch supervisor also maintains radio contact with the driver to answer any questions.

Step 4

The on-board terminal receives the job and all its details, ensuring accuracy is maintained.
At Fasta we offer a wide range of service levels. You simply select the one that suits your delivery requirements:


• Ultra Urgent Premium Service
• Pick up guaranteed within 15 minutes
• Direct delivery
• Call back to you on delivery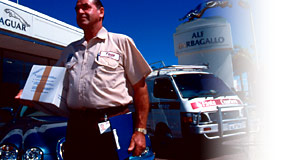 • Pick-up with first available vehicle with a direct delivery




• Delivery within 1 hour of pick-up


• Delivery within 3 hours of pick-up


• Non urgent parcels by courier
• AM pick-up, PM delivery
• PM pick-up, AM next day delivery